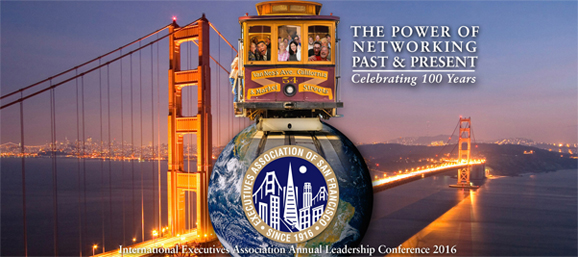 A big thanks to the Executives Association of San Francisco for hosting this year's annual IEA Leadership Conference and letting us help you celebrate your 100 year milestone birthday. And, thank you to all of the executive association members and executive directors that attended the conference this year. For those of you who didn't attend, we missed you!
Here are some of the highlights of the conference which was aptly billed as, "The Power of Networking Past & Present"
Joel Panzer discussed the history of the Executives Association of San Francisco starting in 1916 as a fledgling group of four businessmen and growing into the international organization that we know today.
Daniel Bacon, the founder of the Barbary Coast Trail and author of Frisco, gave an exciting slide show presentation on the history of San Francisco, from the Gold Rush Days to Railroad Barons and Silver Kings.
Hall of Fame keynote speaker, Patricia Fripp, delighted the audience with a high energy presentation on how to effectively meet, mingle and be memorable making strong business connections in your community.
Communication is the key in Strategic Leadership advocacy, according to Tom Riley. He revealed his own strategies for achieving goals where other solutions fail. Sandy Connery, software creative and online entrepreneur, shared her secrets in starting a business, finding angel investors and finding success.
Former Harvard Professor, Jim Ware brought his unique understanding of organizational performance to provide us with ways to turn boring run-of-the-mill meetings into effective, highly engaging conversations that can be truly productive.
Another Keynote Speaker, David Meltzer sparked the crowd with his honesty as he shared his story from having it all to losing it all and then getting it all back again as CEO of Sports 1 Marketing, a firm he co-founded with Hall of Fame quarterback Warren Moon. He gave us each a copy of his new book, "The Nth Power of Networking".
Chip Doyle taught us all how to sell without sounding like a salesman. His sales related advice has led to the success of CEOs, business owners and sales people around the world. He shared his unique methods for taking charge in a selling situation.
As a court qualified hand writing and forgery expert, Ann Mahoney knows fraud when she sees it. When she tells you that you need to protect yourself and your company, you'd better do what she says - and quickly.
A panel of executives shared their knowledge and experience in the world of technology. Corporate identity wizard Todd Crawshaw, Tax Attorney Robert Sommers, successful business owner Keith Perry, Consultant and Trainer Jim Hernandez and Patrick Domingo of Protocol Transportation, were all active in the discussion of how to use technology to make your business grow.
Our third and final keynote speakers, Michael Houlihan and Bonnie Harvey shared their expertise in the world of start-up business. When they started their wine business, they had no idea what they were doing and no money. Now after achieving great success and changing the industry attitude, they are on a crusade to help other businesses find their "Barefoot Spirit". We were also gifted with their book, "The Barefoot Spirit: How Hardship, Hustle, and Heart Built America's #1 Wine Brand".
Old friendships were re-kindled and new ones formed through speed networking, group meals, cocktail parties, and a dinner cruise on San Francisco Bay.
There is great benefit in getting to know members from other associations and sharing ideas. New ideas also emerged during the IEA Regional Meetings. For example: the West Region is putting together a conference call for Executive Directors and Membership Chairs to discuss membership recruitment ideas, and Greg McPherson the Executive Director for the Calgary Executives Association, will be hosting webinars in 2017 on popular topics such as membership growth and retention and association management.
Save the date! Our next conference will be October 4th - 6th 2017 in Ft Lauderdale. You owe it to yourself, your company, and your association, to attend.
Lisa Woodstock,
Past President, IEA & Seattle EA